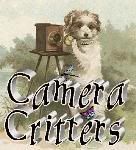 First time to join Camera Critters. I am happy to know this meme - I don't really take pictures of animals, so with this meme, I hope to take notice of the animals around me.
This photo was taken 16 April 2008 in Greenbelt Park, Makati City. I was scheduled to meet my friend Rhodz later that afternoon, and since my sister and I were in the area a few hours before the meeting time, we decided to roam around and take pictures of things that would interest us. Originally, I wanted to take a picture of the the dome chapel in Greenbelt, and while walking around, I saw this kid chasing some ducks!
It's a new thing for me to see ducks walking freely around the park. And to think that this is the Central Business District of the whole country! Anyway, after the kid stopped chasing the ducks, it was my turn to chase them! Hehehehe... they took me to the nearby lagoon, and here's my shot:
So cute, eh? They were lining! Thanks for checking my post. Do come back again next week!
*** Jenn ***