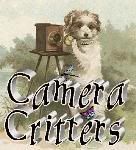 When the family went to La Union for daddy's first year death anniversary (05 March 2008), I told my cousins Mai and Tere that I wanted to come home with them because I wanted to take pictures by their corn and tobacco farms. Not big farms, just a piece of land they turned into a farm. Anyway, Aunt Lorie asked cousin Mai to fetch the goats from the other farm (not theirs), so Mai asked brother and I if we wanted to come with her. Sounds like a good photo opportunity, so of course we went with her.
That other farm was quite far -- they decided to station their goats there because the owner just harvested their corns and the plants have been chopped off, so the goats are free to eat the remaining corn planted on the farm.
They have six adult goats and a few kids, so we decided to divide the goats, two for each of us (cousin Mai, me, and brother). It's fun trying to control the goats -- or be controlled by the goats, so brother and I took turns in taking pictures! =) I don't know what's up with a goat's appetite, even if they're in the farm all day doing nothing but eat, they were still hungry, controlling us to go where they want to eat! Hahahaha.
It was such a wonderful experience. I love herding the goats!
*** Jenn ***